Click Our Guides Below for Help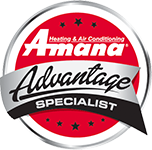 Air Quality Testing Springfield IL | Reliable IAQ Systems
We're here to help you breathe easier. The importance of breathing clean air can't be overstated. We offer a wide range of services for those who need it, including testing and purification processes designed exclusively by our team or manufactured locally at top-notch facilities like ours.
Good indoor air quality is crucial for a healthy home environment and minimal environmental health concerns. This can be accomplished by heating, ventilation, and cooling (HVAC) systems to remove potential pollutants such as pet dander, mold & mildew, smoke, or dust mites. All these could cause significant issues if left unchecked inside your house's climate.
We have expanded our HVAC services. So irrespective of what your needs may be - from installing new AC or heating systems up through purification options like negative ionization technology for indoor air quality improvement—we can help keep things running smoothly.
We know that you and your loved ones deserve the best air quality; we have years' worth of experience to deliver the best. We can recommend an effective purification process based on what kind of situation (small apartment vs. a large house), so call today!
Top-Rated Indoor Air Quality Testers Near You
If you are interested in understanding what's going on with air quality inside your home, some things can be done. You could call an expert or have tests conducted by professionals who will provide detailed information about any problems in this area. And how they may impact us as humans if left unchecked.
The air quality in your home can affect you, so it's essential to know-how. Air pollution sensors help catalog the amount of particulate matter and other hazards present while also providing information on where they're coming from. This allows families to stay healthier without surprises once their conditions start acting up!
You can buy some excellent home testing kits for indoor air quality now, but it's always best to hire an expert if you want the most accurate results. The most apparent advantage lies in that these individuals have a thorough knowledge of their field. It helps them identify potential areas or toxins within one's home where problems could arise ́and then provide solutions on how best to fix the said issue(s). Remember, the air quality in your home can be tricky to navigate. Many highly toxic elements could go unnoticed by a testing kit.
Lastly, you'll be able to estimate the cost and time frame for remedying any contaminants found during testing.
Need Your Indoor Home Air Quality Tested and Improved? Call Today!
We've been a leader in air purification for years, and we won't stop now. With our cutting-edge knowledge, you can ensure that your HVAC system stays clean without compromising performance. You can depend on our team for a thorough inspection, and we'll give you some excellent options when it comes to clean air solutions. You can rely on us to make your house where everyone feels at home. We'll work with you from the start to finish and ensure that the rooms have an ambient feel and are healthy for those living inside them.
AREAS OF SPRINGFIELD, IL
62563, 62629, 62670, 62701, 62702, 62703, 62704, 62707, 62711, 62712
Lincoln Home National Historic Site, Illinois State Museum, Trutter Museum, Panther Creek Country Club, Old State Capitol, Stuart Park, Enos Park, The Springfield Park District, Illinois State Military Museum, Lake Springfield Marina
FIND US HERE:
Ace Mechanical Heating and Cooling
5043 Old Route 36 Springfield, IL 62707
(217) 960-8432